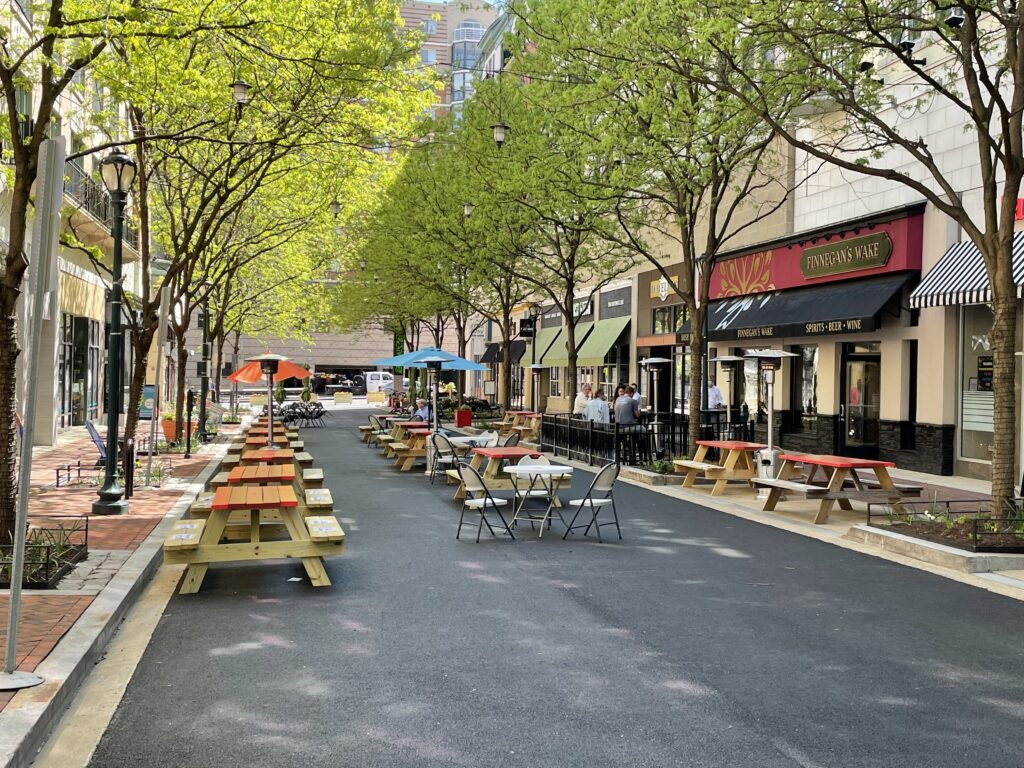 The City of Rockville will hold a third and final virtual public meeting, Tuesday, Sept. 14, on whether to continue street closures in Town Center for outdoor dining.
Options under discussion during that meeting will include: whether to continue the street closures year-round; the potential use of heated tents; closing streets only in warm-weather months or on weekends; and continuing 15-minute free curbside pickup parking spaces in Town Center.
The discussion will also consider bicycle and pedestrian circulation within the area.
Those unable to attend, or who wish to provide additional comments can use the city's online form to submit suggestions until Monday, Sept. 20.
City staff held a virtual public meeting Thursday, Sept. 9 to discuss continuing full or partial road closures in Rockville Town Center to accommodate outdoor dining.
The meeting discussed permanently closing Gibbs Street, and whether to continue the partial closure of, or to fully close, East Montgomery Avenue for continued outdoor dining. East Montgomery Avenue was partially reopened in May 2021. The discussion also considered bicycle and pedestrian traffic within the areas.
The Mayor and Council are scheduled to discuss the issue on Monday, Oct. 4.
In June 2020, the city closed Gibbs Street, between East Middle Lane and Beall Avenue, and East Montgomery Avenue, between Maryland Avenue and Helen Heneghan Way, to allow for expanded outdoor dining areas. The city also created a permit to allow local eateries to temporarily create or expand outdoor dining spaces on private property and within the city's rights of way and designated curbside pickup and 15-minute free parking spaces throughout Town Center.
In May, the city worked with Federal Realty to launch the Streetery on Gibbs in Rockville Town Square, featuring enhanced outdoor seating and a more welcoming environment for people to gather as COVID-19 pandemic restrictions eased and new restaurants opened.
The streetery concept eliminates or limits vehicular traffic and parking on public streets and rights of way to repurpose the urban, outdoor common space for expanded dining, seating and public use.
Staff also worked with Duball to modify the streetery on East Montgomery Avenue to allow for eastbound traffic, a pickup/drop-off lane along the south curb, and an outdoor dining tent for World of Beer along the north curb.
Citing the success of outdoor dining and the desire of businesses for it to continue, in July, the Mayor and Council authorized continuing the street closures and pickup lanes through Oct. 31.
Potential options to be considered during the Sept. 9 meeting include whether to continue the street closures year-round with the potential for heated tents, to close streets only in warm weather months or only on weekends, and whether to temporarily continue 15-minute free curbside pickup parking spaces in Town Center.
Find information for how to join the meeting online. To ask a question, leave a comment or give feedback, click here.
For more information, contact Manisha Tewari, principal planner, at mtewari@rockvillemd.gov or 240-314-8213.