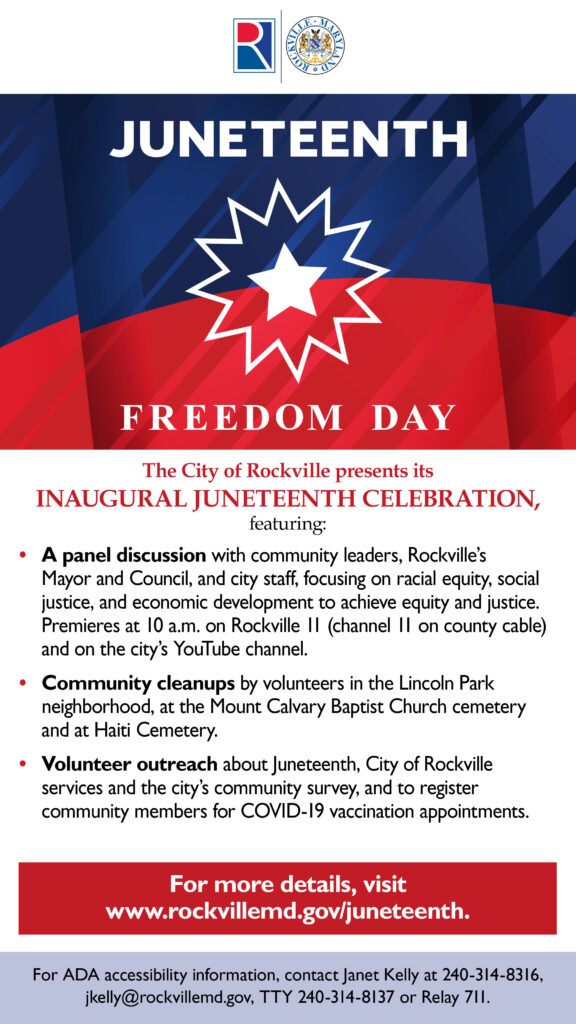 City of Rockville government offices will be closed Friday, June 18, in observance of Juneteenth.
City Hall, Glenview Mansion, the F. Scott Fitzgerald Theatre, and the Rockville Civic Center business office will be closed.
The Rockville Senior Center and community centers, which recently expanded their services and operating hours, will also be closed.
Croydon Creek Nature Center is not yet open to the public on Fridays. It will expand its hours beginning Monday, June 21. Visit www.rockvillemd.gov/croydoncreek for more information.
The Rockville Swim and Fitness Center will be open. Find summer hours for individual swim center facilities at www.rockvillemd.gov/swimcenter.
Recycling and trash are not collected on Fridays. Collections for next week will not be affected. For more information on recycling and trash collection, visit www.rockvillemd.gov/recycling-trash.
Parking will be free June 18 at city-owned meters.
Learn more at www.rockvillemd.gov or call 240-314-5000.
Last July, the Mayor and Council approved a resolution making the City of Rockville the first municipality in Maryland to recognize Juneteenth as a paid city holiday. Learn how to join the city's celebration at www.rockvillemd.gov/juneteenth.