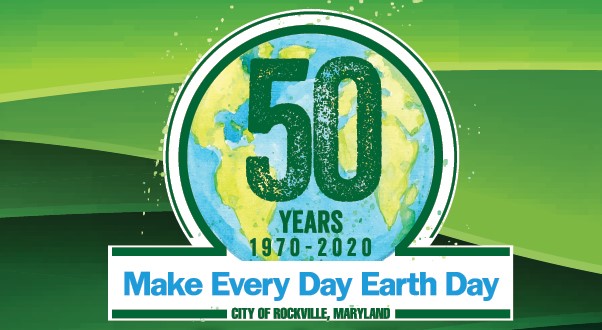 Note: This article has been updated, and will continue to be updated, to reflect cancellations due to the COVID-19 emergency.
Following state and federal directives intended to slow the spread of the new coronavirus, COVID-19, Rockville events, classes, programs, rentals and activities are canceled through April 30.
Updated, Friday, April 10:
We may all be stuck at home, but there are so many ways we can protect our environment and celebrate Earth Month without leaving our house, yard or neighborhood!

The city's Environment and Sustainability staff are teaming up with Croydon Creek Nature Center to bring you a green theme for each week in April. We'll update this webpage weekly with fun activities and tips for things to do at home to make every day Earth Day. Follow Croydon Creek Nature Center on Facebook to see the posts as we share them each day!
Energy
We're all spending a lot more time at home and it's a perfect opportunity to explore how energy works, how much we use and how we can help the environment while saving on our energy bills.
While Croydon Creek Nature Center is closed to public, we've turned off all exterior lights (building lights and parking lot lights) to save energy. Additionally, only the animal enclosure lights are being used during the day. The natural light coming in the windows is a great (and free!) energy source.
Learn more about energy and simple actions to save energy at home:
Renewable Energy for your Home
Interested in green energy for your home? Check out MD Electric Choice, a new webpage from the Maryland Public Service Commission to help consumers find energy service providers, including a search feature for renewable electricity sources.
Activity of the Week (April 5-11): Make a Solar Oven
Solar energy is the most abundant energy source on Earth. Humans have found a way to harness this renewable energy to create electricity and produce heat. You too can harness the power of the sun using some supplies from home. Build a basic solar oven and prepare some tasty treats using solar energy!
Reduce, Reuse, Recycle
Doing some spring cleaning while staying at home? Help your neighbors by posting unneeded items for no-contact pickups on Buy Nothing, Nextdoor or neighborhood groups. Be sure to use best practices for disinfecting items.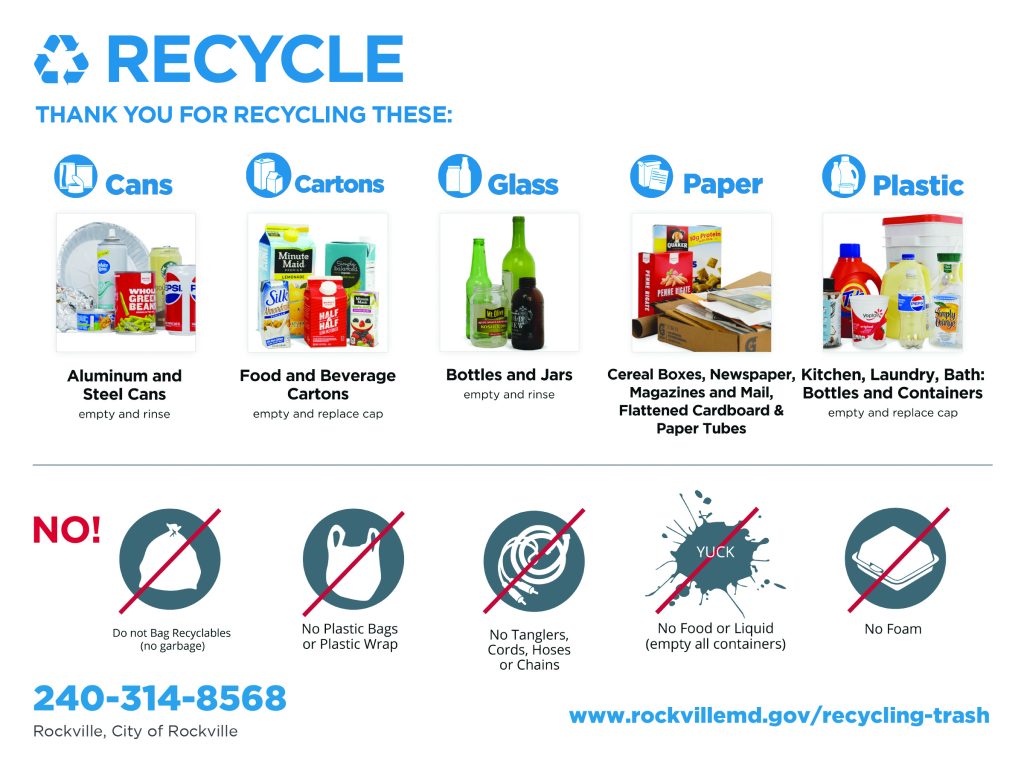 You probably knew you can recycle things like bottles, cans and mixed paper. But did you know there are earth-friendly ways to dispose of medications, unneeded chemicals like paint or pesticides, electronics and bulk items? Learn more:
Reduce Food Waste
Did you know that more food waste reaches landfills and incinerators than any other single material in our everyday trash? Food waste is also a huge part of our carbon footprint.
Taking the simple actions like planning meals, using leftovers and keeping a list of perishables on your fridge can help reduce food waste. Many food items can also be recycled through composting.
Activities of the Week (March 29-April 4)
Now is a great time to think about making the most out of what we have on hand, which is a great way to live more sustainably! Here are a few ideas for stay-at-home projects:
# # #
Original article:
The 50th anniversary of Earth Day is Wednesday, April 22. Join the City of Rockville as we celebrate throughout the year with the Make Every Day Earth Day campaign – including the following activities and volunteer opportunities this spring:
March 23: Mayor and Council Issue Earth Month and Earth Hour Proclamation, 7 p.m. City Hall, 111 Maryland Ave.
March 24: Organic Lawn Care Talk: Canceled.
March 28: Rockville Tree Giveaway: Postponed. Check back for new details as they become available.
April 1-2: Montgomery County Energy Summit: Rescheduled for Nov. 17-18. 8 a.m.-5 p.m. in Silver Spring. Learn more at www.mcenergysummit.org.

April 2: Rockville Brewshed: Green Happy Hour Campfire: Canceled. 6:30-7:30 p.m. Croydon Creek Nature Center, 852 Avery Road. Enjoy a beer or two while you learn about the City of Rockville's sustainability efforts and programs, environmental volunteering opportunities and upcoming events. Must be 21 or over. Registration opens Thursday, March 5. Register for course #13293 at www.rockvillemd.gov/registration.
April 7: Arbor Day Celebration: Canceled. 1 p.m. Woodley Gardens Park, 900 Nelson St. Rockville will mark Arbor Day and 31 years as a "Tree City USA" with a tree planting ceremony.
Looking to spend more time in nature? Check out Croydon Creek Nature Center's Little Acorns, Nature Tots, Outdoor Science Club or Nature Lab programs. Planning for summer? Sign up for a CCNC camp before they fill up.
April 18: 31st Annual Potomac River Watershed Cleanup: Canceled. Cleanup sites include:
Croydon Creek Nature Center, 852 Avery Road, 9 a.m.–noon. (Simply show up; no registration required.)
Twinbrook Community Recreation Center, 12920 Twinbrook Parkway, 9:30-11 a.m.
Maryvale Park, 812 First St., 10 a.m.-noon.
RedGate Park, 14500 Avery Road, 10 a.m.-noon.
City staff will greet volunteers. Gloves and bags will be provided. Student Service Learning hours are available. Children under 14 must be accompanied by an adult. Bring water and wear sturdy shoes. For more information, or to register, email environment@rockvillemd.gov.
April 18: Stream Cleanup Meetup: Canceled. Noon-2 p.m. at Saints Row Brewing, 1211 Taft St. Join Croydon Creek Nature Center and the Environment Commission for a family-friendly meetup after the morning stream cleanups. Open to all. Food onsite. Beer specials for volunteers over 21.
April 19: Science Day: Canceled. Noon-5 p.m. at Montgomery College, Rockville campus, 51 Mannakee St. Visit the Croydon Creek Nature Center table. Free. Learn more at www.rockvillesciencecenter.org/rockville-science-day.
April 25: Lincoln Park Community Outdoor Yard Sale: Canceled. 8 a.m.-noon in the Richard Montgomery High School parking lot, 250 Richard Montgomery Drive.
April 25: Prescription Drug Take-Back Day: Canceled. 10 a.m.-2 p.m. at the Rockville City Police Station, 2 W. Montgomery Ave. Drive up and drop off unused or expired medications so that they are safely disposed of and kept out of our environment. For more information, call Cpl. Kevin McBride at 240-314-8364.
April 25: Spring Festival with Native Plant Sale: Canceled. 10 a.m.-noon at Croydon Creek Nature Center, 852 Avery Road.
May 2: Green Your Backyard Information Session: Canceled. 9:30-11 a.m. at Croydon Creek Nature Center, 852 Avery Road. Learn how to save money, help wildlife and reduce pollution with environmentally friendly landscaping. Register for course #13323 at rockvillemd.gov/registration or email rainscapes@rockvillemd.gov with your name and address.
May 3: Invasive Plant Pull, 1:30-4:30 p.m.at Croydon Creek Nature Center, 852 Avery Road.
Check back for more events as they are scheduled throughout the year.
For environmental news and events, and tips for helping the environment year-round, sign up to receive the city's Environment and Sustainability quarterly newsletter in your inbox. Visit www.rockvillemd.gov/newsletters and select "Environment and Sustainability."