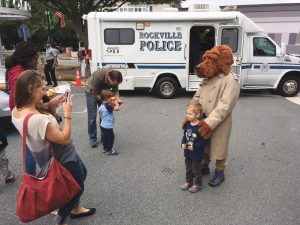 Rockville neighbors are invited to celebrate their communities on Tuesday, Aug. 3 as the Rockville City Police Department participates in National Night Out.

Now in its 38th year, National Night Out is sponsored by the National Association of Town Watch. It aims to raise awareness about crime and drug prevention, generate support for anti-crime programs and strengthen community spirit and community policing partnerships. Neighborhoods will host block parties featuring cookouts, bounce houses, carnival games and giveaways.
McGruff the Crime Dog will stop by several block parties to spread his anti-crime and anti-drug message. The Mayor and Council, RCPD officers and members of the Montgomery County State's Attorney's Office will also visit many of the gatherings.

Residents are invited to turn on outdoor lights as part of the traditional display of front porch vigils, sending the message to criminals that neighborhoods are fighting back against crime.

For more information, visit www.rockvillemd.gov/nno. To register your block party, contact Cpl. Derrick Tibbs at 240-314-8956 or dtibbs@rockvillemd.gov.