U.S. Postal Service Forever Stamp Recalls Building's Past Life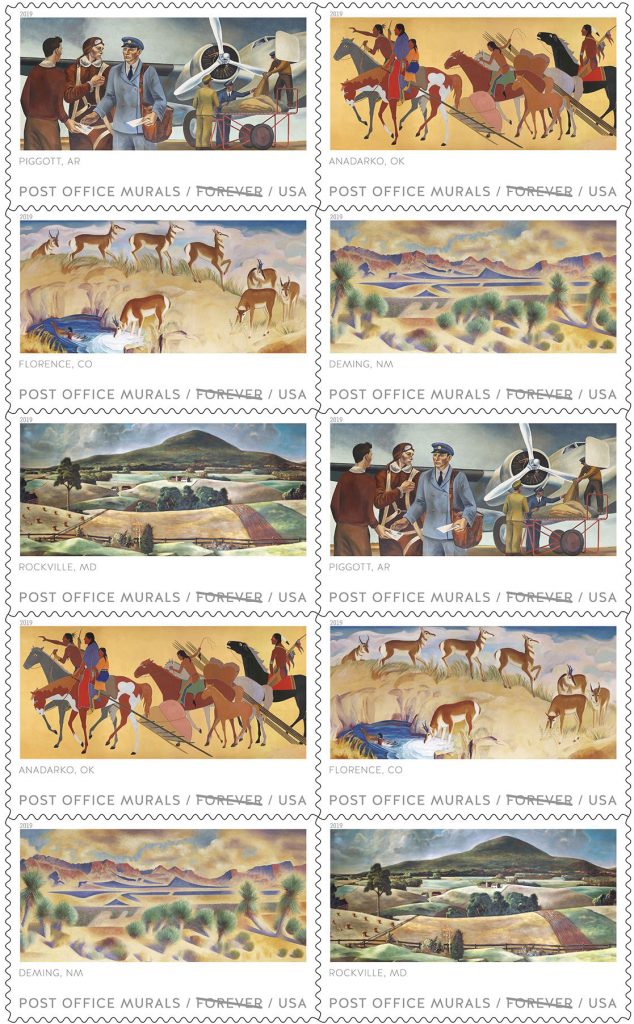 In the six years since the Rockville City Police Department moved from City Hall, the department has put its stamp on its new home in the old post office at 2 W. Montgomery Ave. Now, a piece of that home will become a stamp of its own.
The mural of Sugarloaf Mountain in the station's lobby is part of the U.S. Postal Service's 2019 Forever Stamp series. It will be sold as a pane of 10 stamps depicting "five different murals designed to add a touch of beauty to Post Office walls and help boost the morale of Americans during the era of the Great Depression," the Postal Service said in a press release.
The mural stamp was selected by the Postmaster General's Citizens' Stamp Advisory Committee, which recommends subjects for future stamp issuances. To learn more about the selection process, visit https:// about.usps.com/who-we-are/csac/welcome.htm.
The oil-on-canvas mural, painted in 1938 by Judson Smith, was commissioned by the federal government as a Works Progress Administration project. It was the subject of a 2016 conservation effort to clean it and revive its colors and texture.
For more about the history of the post office-turned-police station, visit www.peerlessrockville.org/historicrockville/peerless-places-2/rockvilles-old-post-office.
This is not Rockville's first experience with postage stamps. On Sept. 28, 1996, the F. Scott Fitzgerald Theatre hosted a second-day issue of a 23-cent stamp commemorating the theater's namesake. (The first-day issue was in St. Paul, Minnesota, the author's birthplace.) The event, part of citywide celebrations marking Fitzgerald's 100th birthday, was to be attended by U.S. Rep. Constance Morella, Gov. Parris N. Glendening, Montgomery County Executive Doug Duncan and Mayor Rose Krasnow, according to the October 1996 issue of "Rockville Reports."