This article has been updated to reflect a new deadline to apply and also an additional July 13 public hearing before the Mayor and Council.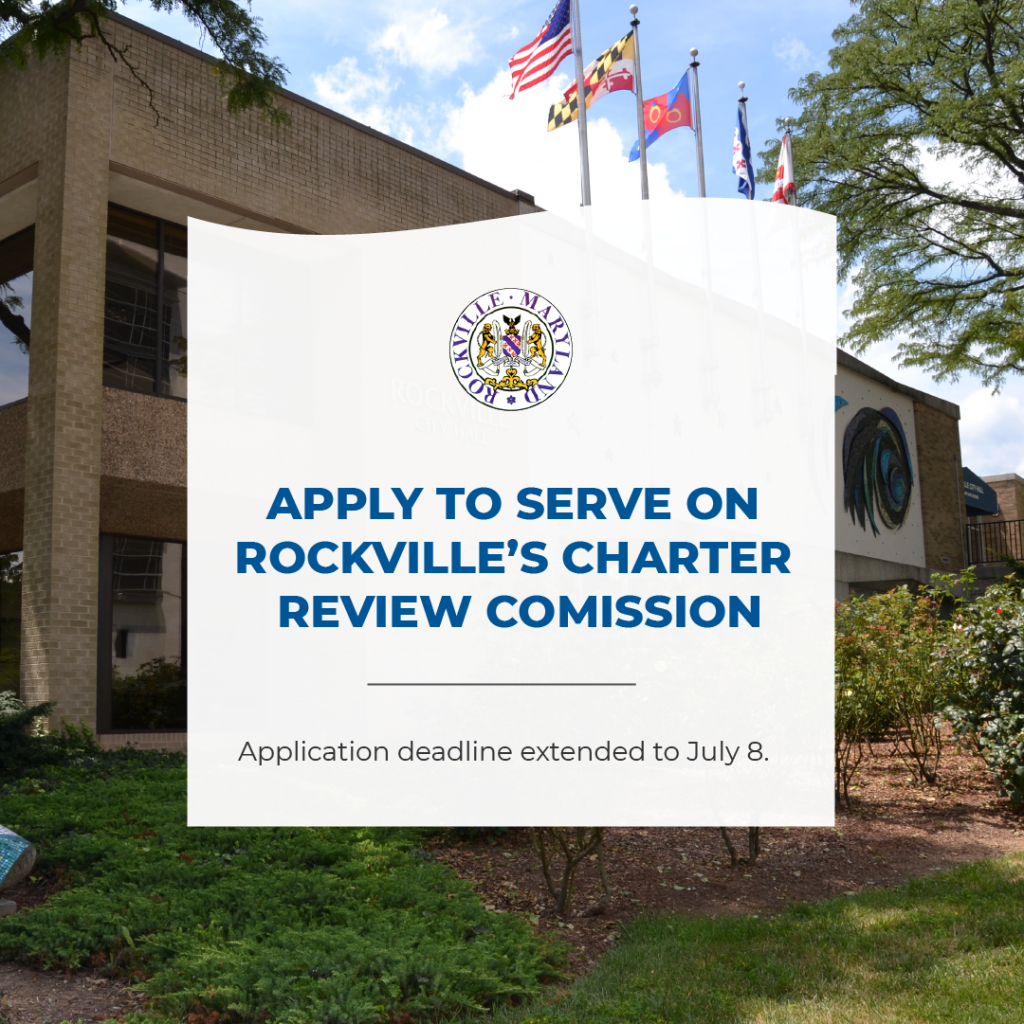 The Mayor and Council are seeking Rockville residents to serve on a Charter Review Commission that will review and recommend changes to Rockville's founding document — the charter.
The charter, established in 1860 with Rockville's incorporation, is a legal document similar to a constitution that empowers the city to pass ordinances, in accordance with state laws. The document establishes the city's corporate limits and outlines how the city is organized and conducts business, such as the terms and number of elected officials, holding elections, levying taxes, adopting ordinances and providing services.

The commission, which will review specific provisions of the charter and recommend changes, will be comprised of 11 Rockville residents. The commission's work is proposed to begin this summer. It is anticipated that members will meet once or twice per month. Once convened, the commission will solicit resident input.

Residents interested in serving on the commission can apply online (include resume) or email a resume and a completed Expression of Interest form to sferrell@rockvillemd.gov by 5 p.m. Wednesday, July 8.
Find more information about the Charter Review Commission, including how to apply, at www.rockvillemd.gov/102/Charter-Review-Commission.

Each member of the Mayor and Council will choose one commission member. In addition, the mayor will nominate a commission chair, to be approved by the council. The Mayor and Council together will select and approve five additional members. The chair of the city's Board of Supervisors of Elections will serve as a nonvoting ex officio representative to the commission.
The Mayor and Council will hold an additional public hearing on Monday, July 13 to determine the scope of the commission's work. A public hearing was held Monday, June 1. (See the agenda or watch the hearing online.)
The Mayor and Council last appointed a Charter Review Commission in 2012, which made recommendations about the length of elected terms of the Mayor and Council, the number of members on the council, and the schedule by which Mayor and Council elections are held. The commission also identified several ways to enhance voting, including early voting and voting by mail. Find more information about the charter review process, including the charter at www.rockvillemd.gov/124/City-Code-Charter.

For more information, contact 240-314-8280 or cityclerk@rockville
md.gov.