Construction on the pedestrian bridge linking Rockville Town Center and the Rockville Metro Station over Rockville Pike is expected to begin March 1 and last about seven months, Metro said in a Feb. 22 advisory.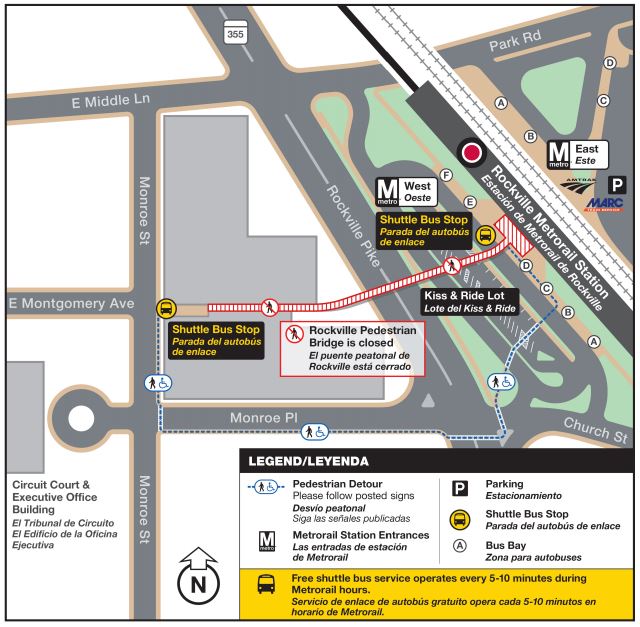 Metro closed the bridge June 17 due to safety concerns after glass panels in the bridge shattered.
The work, which is being managed by Metro, will include repairing two glass panels, replacing brackets and rubber pads that support the panels, and concrete work. A second contractor will make roof repairs. Structural repairs and roof replacement will occur simultaneously.
Construction is planned for weekdays, 7 a.m-5 p.m. The contract allows for night and weekend work, though none is planned unless deemed necessary by Maryland Department of Transportation permitting for work over Rockville Pike (MD 355). Rockville Department of Public Works staff met with Metro representatives in October to discuss the repairs and explained the need to comply with the county's noise ordinance.
The project, which was identified by the Mayor and Council as a priority, is expected to cost $1.7 million, with the city covering $425,000 of the cost.
Accessible parking spaces in the west Kiss & Ride lot, adjacent to Rockville Pike, will be temporarily relocated to the south section of the lot during construction. Kiss & Ride users are advised to follow posted signs to ensure their vehicle is not towed.
Signs direct riders to a shuttle that runs every 5-10 minutes daily during Metro service hours between Bus Bay D at the station's west entrance and a stop across Rockville Pike at East Montgomery Avenue and Monroe Street. The city worked with Montgomery County to modify signal timing so that pedestrians can more safely cross Rockville Pike at Park Road and Church Street using marked crosswalks and following pedestrian crossing signals.
Learn more at www.wmata.com/service/status/details/rockville-pedestrian-bridge-closure.cfm.