Centers Hold Halloween Events
Halloween is nearly here and Rockville has events for families, from the very young to seniors.
Mini-Creep A Halloween
Held at Croydon Creek Nature Center from 10-11 a.m. Friday, Oct. 21, and just for the little ones aged 2-6. Wear a costume and enjoy games, crafts, a snack, and hands-on fun to celebrate the season.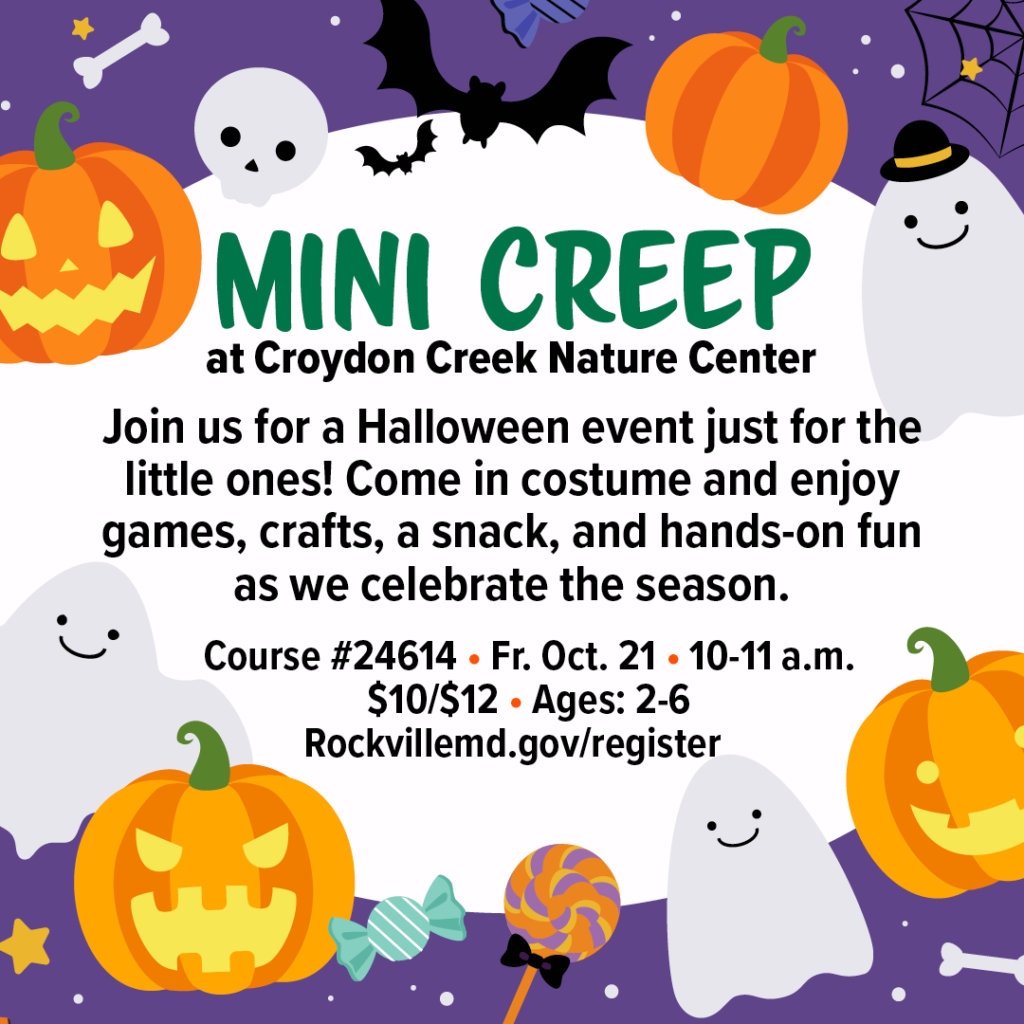 Register at www.rockvillemd.gov/registration with course #24614. The cost is $10 for residents, $12 for nonresidents.
Croydon Creep
Get your costumes ready and celebrate Halloween at Croydon Creep, 6-8 p.m. Saturday, Oct. 22 at Croydon Creek Nature Center.

The free main event includes games, treats, crafts and more. Purchase tickets for a 30-minute guided hike through the forest, meeting creatures and collecting goodies as you go. Ages 6-12.

To register for a guided hiking slot, use course #24616 (6-6:30 p.m.); #24617 (6:30-7 p.m.); #24618 (7-7:30 p.m.); and #24619 (7:30-8 p.m.). Tickets are $10 for residents, $12 for nonresidents.
Toddler Time Halloween Peek-A-Boo Sunday
Calling all little pumpkins aged 2-5! Visit Lincoln Park Community Center in costume from 10 a.m.-noon, Sunday, Oct. 23 to celebrate Halloween little-human style with a petting zoo, pony rides and crafts. Small snack provided. Limit of one guardian per child. Must preregister in advance with course #24634. The cost is $30 for residents, $40 for nonresidents.
Hallowine and Cheese
Get into the Halloween groove with the Rockville Senior Center, 4:30-6 p.m. Tuesday, Oct. 25. Wear your favorite costume, meet new friends and gather with familiar faces. Register with course #24064. Costs $2 for members, $5 for nonmembers.
Monster Mash Dance
Dress up in a costume for pumpkin decorating, dancing and more, 7-9 p.m. Friday, Oct. 28 at Twinbrook Community Recreation Center. Refreshments sold by Twinbrook PTA. Please, no masks or costume props, such as sticks and swords. Register in advance with course #24551 or pay at the door. Entry fee is $5 per person. All ages welcome.