Improvements Create Safer East-West Corridor for Walkers, Rollers, Riders and Drivers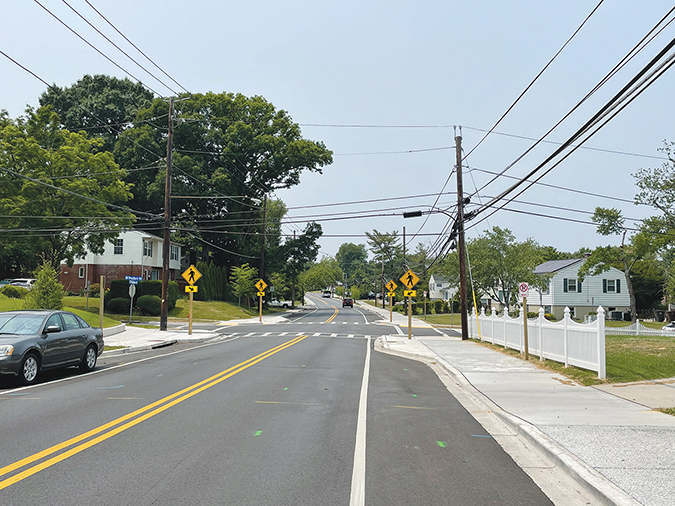 A long-planned major road project crossed the finish line in late spring as the city completed construction of improvements to Baltimore Road.

The project makes the connection between Rockville Town Center and the city's east side more convenient, safe and accessible for pedestrians, bicyclists and motorists. The improvements, which span more than a mile-and-a-half, create a more consistent roadway design, add pedestrian safety measures at several intersections and offer easier access to the Rockville Metro station.
Decades in the making — surveying began in December 2009 — the project required a lengthy property acquisition process in accordance with federal and state regulations. A $4 million Federal Highway Administration grant went toward costs, including a $5.8 million contract awarded in October 2020 to Locust Lane Farms, Inc., of Upper Marlboro. Construction began in March 2021, during a pandemic that created supply chain issues and other challenges.

The project's first phase brought roadside pedestrian safety improvements from near the Rockville Metro station to MD 28 at First Street, including curb bump outs and enhanced crossing features at Grandin Avenue and South Horners Lane. The second phase, from First Street to the city limits near Rockville High School, included roadway resurfacing, an 8-foot-wide shared-use path that connects Rock Creek Trail and the Carl Henn Millennium Trail, completion of sidewalk gaps, pedestrian safety spot improvements, landscaping, stormwater management, and improved drainage through culvert replacement and new storm drains.

A portion of the road, between Gladstone and Broadwood drives, was closed for more than five months in 2021 so crews could replace the roadway culvert at the stream crossing near Rockville Cemetery, relocate water lines, install storm drain connections and restore the stream.

Throughout the project, staff from the city's Traffic and Transportation Division communicated neighborhood impacts to community associations and school officials, including information about road and sidewalk detours, parking restrictions and temporary driveway closures.

Learn more about the improvements at www.rockvillemd.gov/baltimoreroadproject.

Find details of more projects the city is undertaking as part of the Vision Zero Action Plan to eliminate traffic- and pedestrian-related deaths and serious injuries at www.rockvillemd.gov/visionzero.