Stay healthy and informed with free seminars from the Rockville Senior Center in February.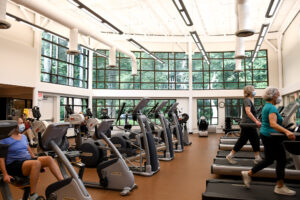 Register with the course number at www.rockvillemd.gov/registration. Learn about 60-plus programs, courses, activities and services at www.rockvillemd.gov/seniorcenter or by calling 240- 314-8800. See the "Adults 60+" recreation guide at www.rockvillemd.gov/life for more information.

Activities are in person and held 1-2 p.m., except where noted.
Medical Management of Chronic Pain: Interventional vs. Non-Interventional
Discuss the options and variances in care of chronic pain, ranging from injection therapeutics, use of physical modalities, integrative medicine methods and minimally invasive surgeries. Presented by Dr. Mehrdad Michael Massumi of Massumi Associates, Pain Management and Rehabilitation. Register with course #24950. 1-2:30 p.m. Wednesday, Feb. 1. Free. Virtual.
Exercise and Physical Activity: Part of Aging
Learn how exercise and physical activity can help you stay healthy as you age. Presented by Dr. Carlos Martinez, director of CAM Physical Therapy. Register with course #24964. Wednesday, Feb. 8. Hybrid.
What Is Immunotherapy for Cancer Treatment?
Learn the differences between chemotherapy, targeted therapy and immunotherapy in the treatment of cancer. Presented by Dr. Mark Goldstein, an oncologist and hematologist. Register with course #24951. Wednesday, Feb. 15. Hybrid.
Better Breather's Club
Facilitated by an American Lung Association instructor, the club meets monthly and features educational presentations about better breathing and lung issues. Register with course #24075. Thursday, Feb. 16. In person at the senior center.
Drug Interactions: What You Should Know
Many interactions can take place with medication. Be aware of interactions to avoid drug toxicity and other side effects, or worsening of a condition. Join Suburban Hospital Pharmacy residents to learn about common drug interactions and what you need to know for optimal health and safety. Register with course #24970. Thursday, Feb. 23. Free. Virtual.