Closure is Part of City's Ongoing Improvement Project
A portion of Baltimore Road will be closed to vehicles and pedestrians beginning on or about Wednesday, June 23, and continuing for the next several months as part of a city project to improve safety and access along the corridor between Rockville Town Center and the city's east side.
The closure will be between Gladstone Drive and Broadwood Drive. Variable message boards and detour signs are posted advising motorists and pedestrians of the closure. Vehicles should avoid the area by using MD 28 or following detour signs to Veirs Mill Road to get around the work area, taking Broadwood Drive on the east side of the closure and Edmonston Drive on the west side. Pedestrians should follow pedestrian detour signs on streets to the south of Baltimore Road to get around the work area.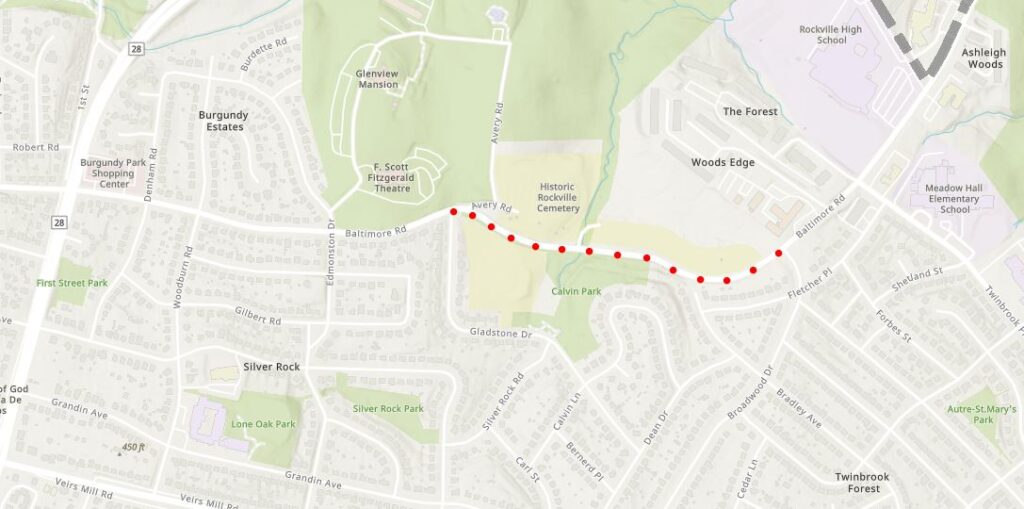 Work during the closure will include replacing the roadway culvert at the stream crossing near Rockville Cemetery, storm drain installation and stream restoration. The road is expected to reopen at the conclusion of construction in mid-October.
Roadway resurfacing will be one of the final steps of the project, which is expected to be completed in spring 2022, if work proceeds as planned. Learn more at www.rockvillemd.gov/baltimoreroadproject.