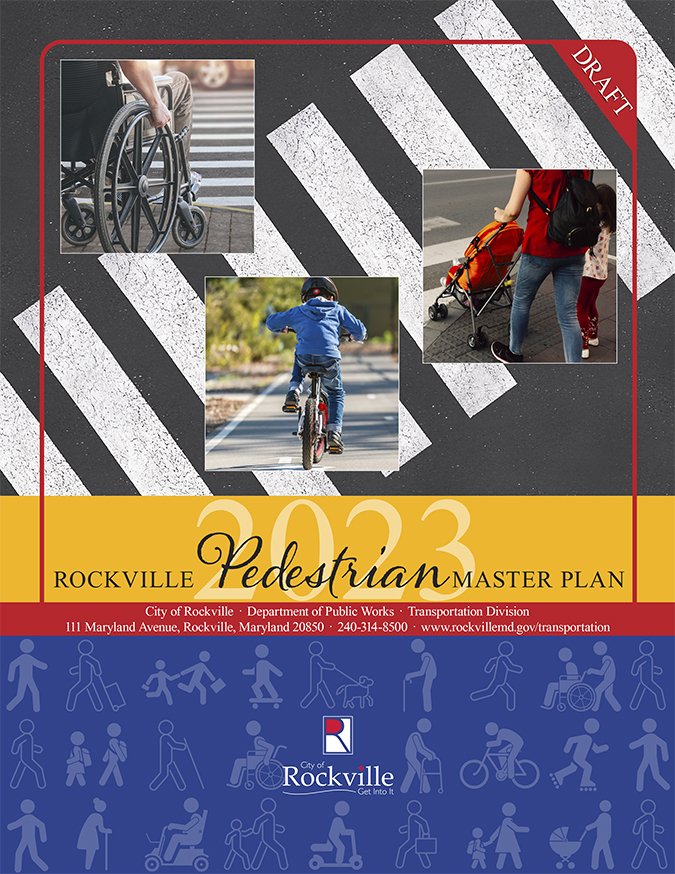 The city is developing its first Pedestrian Master Plan and wants community members to help make Rockville a safer place for walking and rolling.

The plan will guide the development, construction and maintenance of safe, convenient and equitable walking and rolling facilities across the city. "Walking and rolling" describes forms of mobility that do not include motor vehicles or bicycles. This includes walking; running; walking with the use of a white cane, audio-assistance device or walker; or using a wheelchair, knee-walker, mobility scooter or stroller.
Learn more about development of Rockville's Pedestrian Master Plan and find a draft for review at engagerockville.com/pedestrian-master-plan.

The city wants to hear from the community about the plan. What in the plan works well to advance walking and rolling in Rockville? What changes are still needed? What is missing?

Submit comments directly to city staff via email or by the Pedestrian Master Plan Draft Survey. Find email addresses and the survey on the Engage Rockville website. All comments will be responded to and shared with the Planning Commission and Mayor and Council for the public hearings.

The plan was scheduled to be introduced to the Planning Commission at their meeting on Wednesday, June 28. Find video of the presentation and a staff report about the plan with the meeting listing at www.rockvillemd.gov/AgendaCenter. The commission is expected to forward recommendations to the Mayor and Council this fall.

A virtual forum on June 22 discussed the Pedestrian Master Plan as well as Vision Zero, the city's plan to eliminate traffic- and pedestrian-related deaths and serious injuries. The Pedestrian Master Plan is a Vision Zero action item and a recommendation of the city's Rockville 2040 Comprehensive Plan. Find video of the forum at youtube.com/cityofrockville.

Learn more about Vision Zero at www.rockvillemd.gov/visionzero.