Rockville's Mayor and Council are calling on state Comptroller Peter Franchot to vote against the state project to add toll lanes to interstates 270 and 495 between the American Legion Bridge and Frederick.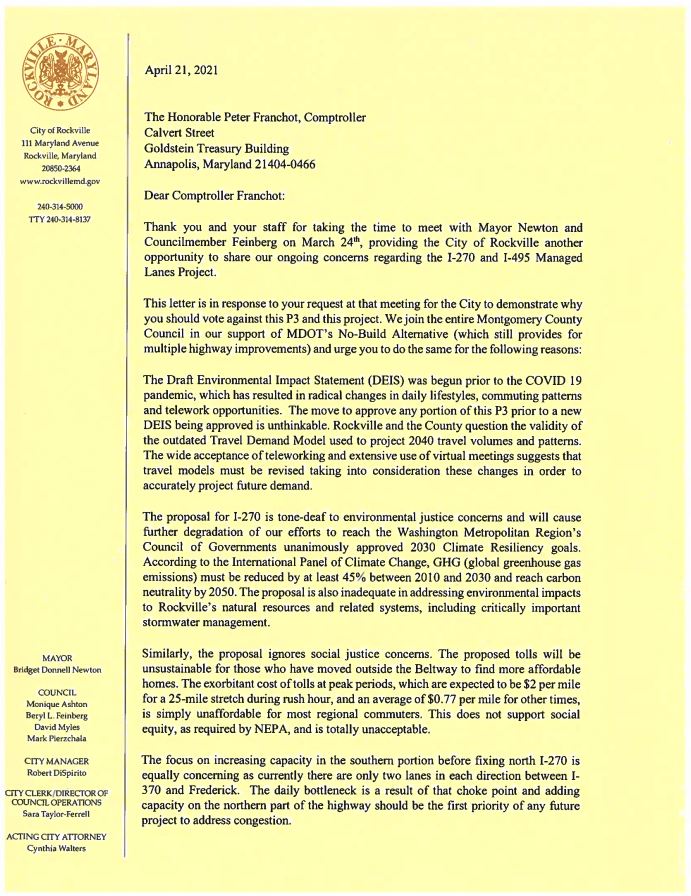 In a letter, the Mayor and Council urged Franchot to join the Montgomery County Council in opposing the public-private partnership, or "P3," project, calling the traffic model used to evaluate it "outdated" and raising social equity concerns about environmental impacts and toll costs.
The Mayor and Council are asking Franchot to reconsider the state Board of Public Works' preliminary approval of the project and vote no when approval for the project's first phase comes before the board, which comprises Franchot, Gov. Larry Hogan and state Treasurer Nancy Kopp. A board vote has not yet been scheduled.
Legislation addressing the project failed to win passage during this year's Maryland General Assembly session. An amended bill, supported by the city, would have prohibited the Maryland Department of Transportation from submitting a P3 agreement for review by the Board of Public Works unless the project's final Environmental Impact Statement complied with the National Environmental Policy Act.
The city continues to press the State Highway Administration to fulfill a commitment to build the West End Park Noise Barrier Project, which would protect homes north of the I-270/MD 28 interchange, and for noise barriers in other impacted Rockville neighborhoods. The managed lane project's Draft Environmental Impact Statement included noise barriers at the Woodley Gardens Shopping Center. The state is in the process of evaluating whether to include additional noise barriers in the Final Environmental Impact Statement.
Learn more about the Mayor and Council's efforts regarding the project.